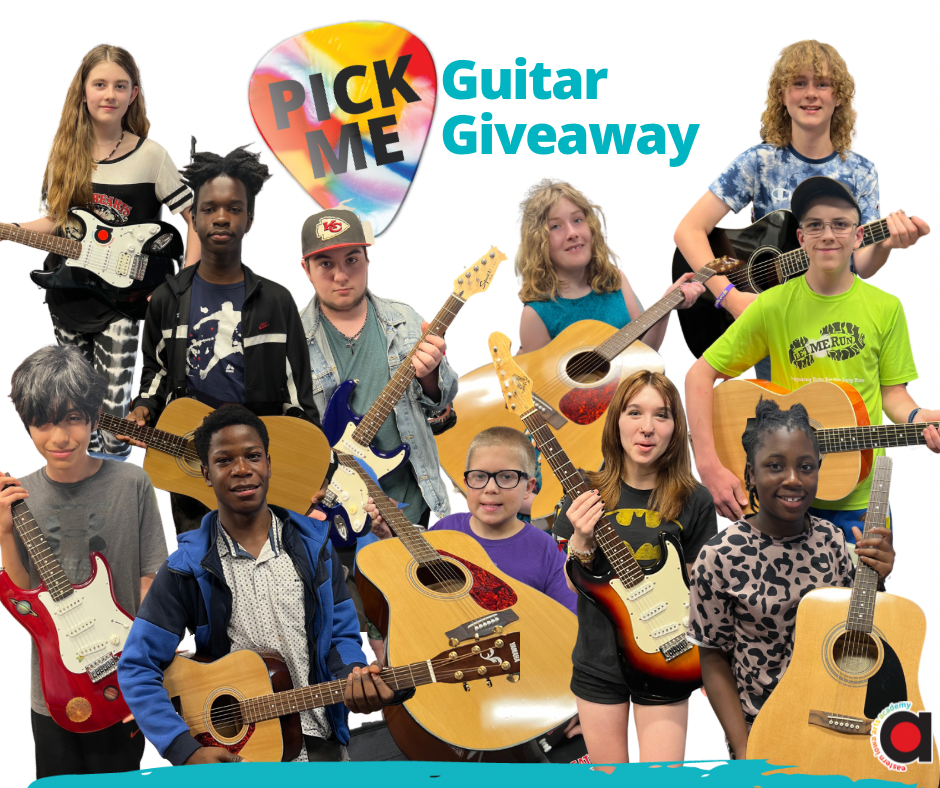 In today's world, where opportunities often seem unequal and barriers persist, initiatives that break down those barriers and open doors to new possibilities are like beams of light cutting through the darkness. Eastern Iowa Arts Academy, has embarked on a remarkable journey to foster diversity, equity, and inclusion in the arts. At the heart of this mission is the "Pick Me" guitar program, a transformative initiative supported by ITC Midwest, aimed at harnessing the power of music to uplift and empower the youth of the community.

Empowering Through Music

Eastern Iowa Arts Academy understands that art is not just an activity; it is a means of communication, self-expression, and personal growth. However, not all children have equal access to these opportunities. This is where the "Pick Me" program comes into play. By inviting the community to donate gently used guitars, the program aspires to create a bridge between those who have and those who aspire to have.

These guitars, each carrying a unique history and melody, will be carefully refurbished and placed into the hands of deserving students in grades 6-8. These students, nominated by their teachers who recognize their potential, will receive more than just a guitar – they will receive a chance to explore the world of music in a way they might have never imagined.

Harmony in Diversity

In an increasingly diverse world, fostering an environment of inclusivity is crucial. The "Pick Me" guitar program is a shining example of how art can transcend boundaries and bring people from different backgrounds together. This harmonious interaction not only nurtures musical skills but also cultivates a sense of understanding and unity within the community. Music is a universal language, understood and appreciated across cultures. The "Pick Me" guitar program not only seeks to empower underserved youth but also aims to bridge cultural differences through the shared love of music. Through the strings of a guitar, children find common ground, and in that unity, they discover the richness of diversity.

Strings of Hope and Self-Esteem

Imagine the impact of receiving a guitar of one's own. It's not just an instrument; it's a symbol of hope, a vessel of self-expression, and a source of endless possibilities. The scholarships for weekly private guitar lessons offered as part of the program can be transformative. The nurturing environment created by Eastern Iowa Arts Academy and the local musician mentors Craig Erickson and Billy Lee Janey will not only build musical skills but also boost self-esteem and inspire dreams.


Changing Lives, One Guitar at a Time

The "Pick Me" guitar program embarked on a mission to break down barriers, making the beauty of music accessible to all. This mission became a reality as 11 guitars, lovingly donated by members of the community, were paired with equally eager young recipients.

It's important to recognize the profound impact that the "Pick Me" program has had on these young lives. These middle schoolers, who might never have dreamed of holding a guitar, let alone playing one, are now strumming, plucking, and creating melodies of their own. The ripple effect of this experience is immeasurable. Beyond the musical notes, this initiative has instilled a newfound confidence and a sense of achievement in these students.


Reverberating Beyond the Notes

The impact of the "Pick Me" program goes far beyond the notes played on these newly acquired guitars. The sense of community it fosters, the connections it forges, and the opportunities it offers are building blocks for a brighter future. This program is more than just strings and frets; it's a platform for these middle schoolers to learn, grow, and believe in themselves.

With the "Pick Me" guitar program, Eastern Iowa Arts Academy and ITC Midwest have orchestrated a symphony of change, breaking down barriers, embracing diversity, and creating a pathway to expression for those who might have been otherwise excluded. These 11 guitars and the journey they've initiated are testaments to the power of unity, music, and the belief that every child deserves the chance to make their own melody in the world.
Loading Conversation