Heather Dewey Wagner
Executive Director
Heather is originally from Cedar Rapids where she attended Washington High School before studying journalism at the University of Missouri. Never having taken an art class before, she opted to try drawing as an elective her sophomore year. Little did she know that that elective would soon change her life. She fell in love with studio arts and never looked back. Heather transferred to Iowa State where, in 1990, she received her Bachelor of Fine Arts degree in Art and Design.

After college, Heather worked as an artist in advertising for several years in Houston, Texas and Salina, Kansas. She soon branched out on her own as a freelance artist and designer, starting her own business, Paper Moon Originals.

In 2000, Heather moved back to Cedar Rapids and was a commissioner for seven years serving Cedar Rapids and the Visual Arts Commission. During that time she began painting murals for several businesses in town including schools, churches and the African American Museum. Currently she is a member of the Visual Arts Master Plan Steering Committee for the City and she has had a studio in the Cherry Building for over fifteen years where she enjoys her personal art time and an occasional commission piece, called Heather Wagner Designs.
Heather joined the EIAA in 2014 as a teacher and became the Music and Arts Studios Director in 2015 and Director of Operations in 2019. She continues to teach classes to students of all ages including autistic children and mentally handicapped adults.
---
Pam Kaufman
Finance Director (CPA)
Pam Kaufman is a graduate of Mount Mercy College with a Bachelor of Arts degree in Accounting and Business Administration. Pam's 25-year career in public and private accounting includes positions as an auditor, tax accountant, personal financial manager and staff accountant. She is a native of Cedar Rapids and enjoys spending time with her family, reading, baking and gardening.
---
Lauren Manninen
Program Director
Lauren is a Cedar Rapids artist and graduate of Washington High School. She received her degree in Fine Arts from the Minneapolis College of Art and Design and spent time studying abroad in Japan at the Osaka University of Arts.
Lauren continues to be an active artist in eastern Iowa by participating in community arts projects. She has painted a statue celebrating Grant Wood for Overalls all Over, participated in Cedar Rapids' storm drain murals initiative, and shown work at New Bo Art Fest. You can follow her work on her website or Facebook.
---
Evan Stock
Talkback Studios Manager & Rock Academy Coordinator
Evan Stock is the Rock Band Program and Recording Studio Coordinator. Evan began producing music at a very young age, making songs and albums frequently with friends and bandmates from grade school. His passion for recording music continued through high school as his new and upcoming band, The Evan Stock Band, self-produced and released their own music. While working on music production with a working band Evan has spent years networking and managing his act as they played gigs all over Iowa, and beyond. Evan has experience with event contacts, traveling, live sound management, managing band members, and much more!
---
Kassandra Rocarek
Outreach & Administrative Assistant
Kassandra is a Cedar Rapids native. She graduated from Jefferson High School and went on to obtain a degree from Kirkwood Community College with a focus on special education. She worked with the special populations at Jefferson during her time there and is currently a full-time caregiver outside of the academy. She has experience as a business owner, creating and selling works of art, and is excited to put her skills to use at EIAA. Outside of work, she enjoys camping, fishing, reading, playing video games, and exploring new art mediums.
---
Elizabeth Dobbs
Music & Arts Studios Coordinator
Elizabeth Joy is an artist based in Cedar Rapids, Iowa. Her first few years of childhood were spent in her parents' art studios at home, where drawing, painting and listening to music were like eating and breathing. That beginning has since helped her forge a path in art, music, and education. Her studies of Studio Art at MiraCosta College in Oceanside, California started a life-long love of printmaking and color theory. Elizabeth lives for teaching and helping artists and musicians connect with each other. She and her partner, Gabriel, spend much of their spare time together collaborating on childrens' stories and writing songs performed almost exclusively to their 8 cats.
---
Naomi Rose
Creative Development Director
Naomi's origins start in Northeast Iowa where she was raised by creative parents that inspired artistic growth within her. She graduated with a degree in recording and music technology from Madison Media Institute in Madison, WI. She migrated to the Cedar Rapids-area as an adult and got involved with EIAA in 2018. She teaches vocal lessons and directs a youth rock band, Flashback, for EIAA. Naomi has worked as a professional graphic designer since 2007, photographer/videographer since 2010, and has been a performing musician/songwriter/producer since 2000. Naomi has been a professional creative business owner since 2008 (Rockadot) partnering with local startups to nationally known corporations where she specializes in branding, marketing, and graphic design.
---
Michelle Fischer
Adult Fine Arts Director
Michelle graduated from the University of Northern Iowa with her Bachelor of Arts degree in Interior Design and Architecture. After graduation, she worked with architects doing commercial interiors. Later, Michelle ventured back into art, earning a Master of Arts degree from the University of Iowa, this time in Design, Sculpture and Printmaking.
Michelle brings a variety of teaching experiences to her position at the Eastern Iowa Arts Academy. She has taught courses and workshops at The University of Iowa, Kirkwood Community College, Coe College, The Indian Creek Nature Center, Prairiewoods Spirituality Center, and The Cedar Rapids Museum of Art. She also served on the Iowa Arts Council Board of Directors from 1996-2004.
Michelle is a working artist and continues to produce her own work following themes that help center her. Her work has been exhibited in venues throughout the Midwest. She enjoys working with foil, wax and oil paint because it allows her to play with transparency, shine, light and movement.
---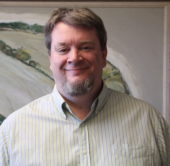 Russ Fagle
Healing HeARTS Coordinator
Russ Fagle is an artist and art instructor with nearly 30 years of experience in branding, graphic design, art and illustration and creative development. A graduate of Wartburg College, his clients have included The Iowa Lottery, Brach's Candy, Apple, Panasonic, GE Capital and local companies like The Freedom Festival, The NewBo City Market and Rockwell Collins. Russ has also worked extensively in developing communications and graphics for businesses and organizations since 2001 when he transitioned to an independent consultant. Russ was a founding artist of the New Bohemia Arts and Entertainment District of Cedar Rapids in 2002 and currently sits on the New Bohemia District Board of Directors. He is the owner of Mixed Media Magic which is an art event business. Russ has facilitated art making workshops for cancer patients for many years and he currently facilitates the EIAA's Healing HeARTS program, as well as the Arts@Home program. Russ is an artist, father and avid student of world history and cultures.
Kaitlyn Clark
Arts Intern
Kaitlyn Clark is a junior at Coe College in Cedar Rapids. She currently getting her degree in Art with a minor in Secondary Education and Art history. Kaitlyn is from a small town called Braidwood, Illinois where she graduated in 2020 from Reed Custer High School. Throughout high school she has always been involved in the arts. Whether she was in the art room creating her latest piece or in the band room playing her clarinet you could always find her doing something creative. She fell in love with art when she was younger and has always had a passion to create things. She primarily likes to use watercolors, clay, mixed media, and photography. Her goal after college is to become an educator and teach all ages how to love and appreciate art.