Heather Dewey Wagner
Executive Director
Heather, originally from Cedar Rapids, attended Washington High School and studied journalism at the University of Missouri. During her sophomore year, she discovered a passion for drawing and pursued it further, eventually earning a Bachelor of Fine Arts degree in Art and Design from Iowa State in 1990.

After college, Heather worked as an artist in advertising before becoming a freelance artist and designer, establishing her own business called Paper Moon Originals. She returned to Cedar Rapids in 2000 and served as a commissioner for Cedar Rapids and the Visual Arts Commission while painting murals for local businesses, schools, churches, and the African American Museum.

In 2014, Heather joined the Arts Academy and became involved in teaching art classes to mentally handicapped and autistic students at the EIAA. She actively participates in various community initiatives, including the Visual Arts Master Plan Steering Committee, the Greater Cedar Rapids Community Foundation non-profit advisory committee, the Tuesday Noon Optimists, the Cedar Rapids Public Art Commission, and serves as a board member for the HUB Program at the Collins Community Credit Union. Heather's studio has been based in the Cherry Building for nearly twenty years, providing her with a thriving creative space. She enjoys spending time with her two grown sons, good friends, and spends lots of outdoor time Jeeping.
---
Pam Kaufman
Finance Director (CPA)
Pam Kaufman is a graduate of Mount Mercy College with a Bachelor of Arts degree in Accounting and Business Administration. Pam's 25-year career in public and private accounting includes positions as an auditor, tax accountant, personal financial manager and staff accountant. She is a native of Cedar Rapids and enjoys spending time with her family, reading, baking and gardening.
---
Lauren Manninen
Program Director
Lauren is a Cedar Rapids artist and graduate of Washington High School. She received her degree in Fine Arts from the Minneapolis College of Art and Design and spent time studying abroad in Japan at the Osaka University of Arts.
Lauren continues to be an active artist in eastern Iowa by participating in community arts projects. She has painted a statue celebrating Grant Wood for Overalls all Over, participated in Cedar Rapids' storm drain murals initiative, and shown work at New Bo Art Fest. You can follow her work on her website or Facebook.
---
Evan Stock
TalkBack Studios Director
Evan Stock is the Rock Band Program and Recording Studio Coordinator. Evan began producing music at a very young age, making songs and albums frequently with friends and bandmates from grade school. His passion for recording music continued through high school as his new and upcoming band, The Evan Stock Band, self-produced and released their own music. While working on music production with a working band Evan has spent years networking and managing his act as they played gigs all over Iowa, and beyond. Evan has experience with event contacts, traveling, live sound management, managing band members, and much more!
---
Kassandra Rocarek
Outreach & Administrative Assistant
Kassandra is a Cedar Rapids native. She graduated from Jefferson High School and went on to obtain a degree from Kirkwood Community College with a focus on special education. She worked with the special populations at Jefferson during her time there and is currently a full-time caregiver outside of the academy. She has experience as a business owner, creating and selling works of art, and is excited to put her skills to use at EIAA. Outside of work, she enjoys camping, fishing, reading, playing video games, and exploring new art mediums.
---
Maddi Edwards
Programming Assistant
My name is Maddi Jo Edwards, and I'm looking forward to being an Administrative Assistant at the Eastern Iowa Arts Academy! I grew up here in Cedar Rapids and was an active student in the Music and Arts Studio where I took classes and open studios. I've since graduated from Iowa State University with a Bachelors of Fine Arts in Integrated Studio Art in the Fall of 2022. My area of focus is in printmaking which includes relief, intaglio, screen printing, and letterpress.
I've been involved with multiple exhibits and a grant project in Ames, Iowa, and exhibited in local spaces such as the Cherry Building, Feedwell Bakery, and CSPS. My studies have also sent me overseas where I've studied art abroad in Rome, Italy.
I'm a current member of the Iowa City Press Co-op where I volunteer and use the space to continue to strengthen my printmaking portfolio. I'm excited to be part of the amazing art community here in Cedar Rapids!
---
Naomi Rose
Rock Academy & Creative Director
Naomi's origins start in Northeast Iowa where she was raised by creative parents that inspired artistic growth within her. She graduated with a degree in recording and music technology from Madison Media Institute in Madison, WI. She migrated to the Cedar Rapids-area as an adult and got involved with EIAA in 2018. She teaches vocal lessons and directs a youth rock band, Flashback, for EIAA. Naomi has worked as a professional graphic designer since 2007, photographer/videographer since 2010, and has been a performing musician/songwriter/producer since 2000. Naomi has been a professional creative business owner since 2008 (Rockadot) partnering with local startups to nationally known corporations where she specializes in branding and graphic design.
---
Michelle Fischer
Adult Fine Arts Director
Michelle graduated from the University of Northern Iowa with her Bachelor of Arts degree in Interior Design and Architecture. After graduation, she worked with architects doing commercial interiors. Later, Michelle ventured back into art, earning a Master of Arts degree from the University of Iowa, this time in Design, Sculpture and Printmaking.
Michelle brings a variety of teaching experiences to her position at the Eastern Iowa Arts Academy. She has taught courses and workshops at The University of Iowa, Kirkwood Community College, Coe College, The Indian Creek Nature Center, Prairiewoods Spirituality Center, and The Cedar Rapids Museum of Art. She also served on the Iowa Arts Council Board of Directors from 1996-2004.
Michelle is a working artist and continues to produce her own work following themes that help center her. Her work has been exhibited in venues throughout the Midwest. She enjoys working with foil, wax and oil paint because it allows her to play with transparency, shine, light and movement.
---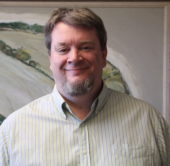 Russ Fagle
Healing HeARTS Coordinator
Russ Fagle is an artist and art instructor with nearly 30 years of experience in branding, graphic design, art and illustration and creative development. A graduate of Wartburg College, his clients have included The Iowa Lottery, Brach's Candy, Apple, Panasonic, GE Capital and local companies like The Freedom Festival, The NewBo City Market and Rockwell Collins. Russ has also worked extensively in developing communications and graphics for businesses and organizations since 2001 when he transitioned to an independent consultant. Russ was a founding artist of the New Bohemia Arts and Entertainment District of Cedar Rapids in 2002 and currently sits on the New Bohemia District Board of Directors. He is the owner of Mixed Media Magic which is an art event business. Russ has facilitated art making workshops for cancer patients for many years and he currently facilitates the EIAA's Healing HeARTS program, as well as the Arts@Home program. Russ is an artist, father and avid student of world history and cultures.