Opportunities for All Ages
The Eastern Iowa Arts Academy has many opportunities for people of all ages to engage in our programming and to support the mission of the Academy.
EIAA's Outreach Program partners with area human service agencies to provide a wide variety of programming for the clients served by those agencies. EIAA takes programming to the agency's facility or hosts a class in the Music and Arts Studios. Contact us to find out more about becoming a community partner.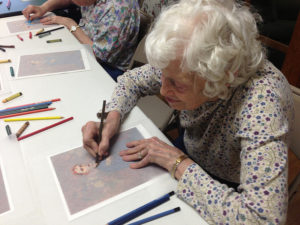 Adult Programming
In addition to Youth Programming, EIAA has opportunities for adults and organizations in the community, too. Tuesday morning Coffee and Art Club allows adults from the community to meet other adults with an interest in art. Join your neighbors and friends for coffee and conversation while you try out a new project or continue work on something you started at home. There is no cost for this fun, weekly get together. If you would like to join this fun community of adult artists, we would love to have you! Use this link to join, Tuesday mornings at 9:30.
Organizations
Need a creative boost for your employees? Looking for a custom birthday party or bachelorette party? Want to record your own CD? EIAA's facilities are available to rent and we would love to customize your event for you. Contact us for more information.
Events and Fundraisers
EIAA has several fundraisers throughout the year with all proceeds going to support programming. You can help EIAA continue to provide this programming at little to no cost by attending or volunteering at one of our events.
If you would like to see the impact that EIAA's programming has on the students we serve, we invite you to attend one or both of our showcases. The Arts Alive! Showcase, held at the end of the fall and spring terms, gives each student the opportunity to display the artwork they have created or to perform in front of family and friends. These showcases highlight the programs of the Academy and the creativity of the students we serve.