---
Join us for Happy Hour!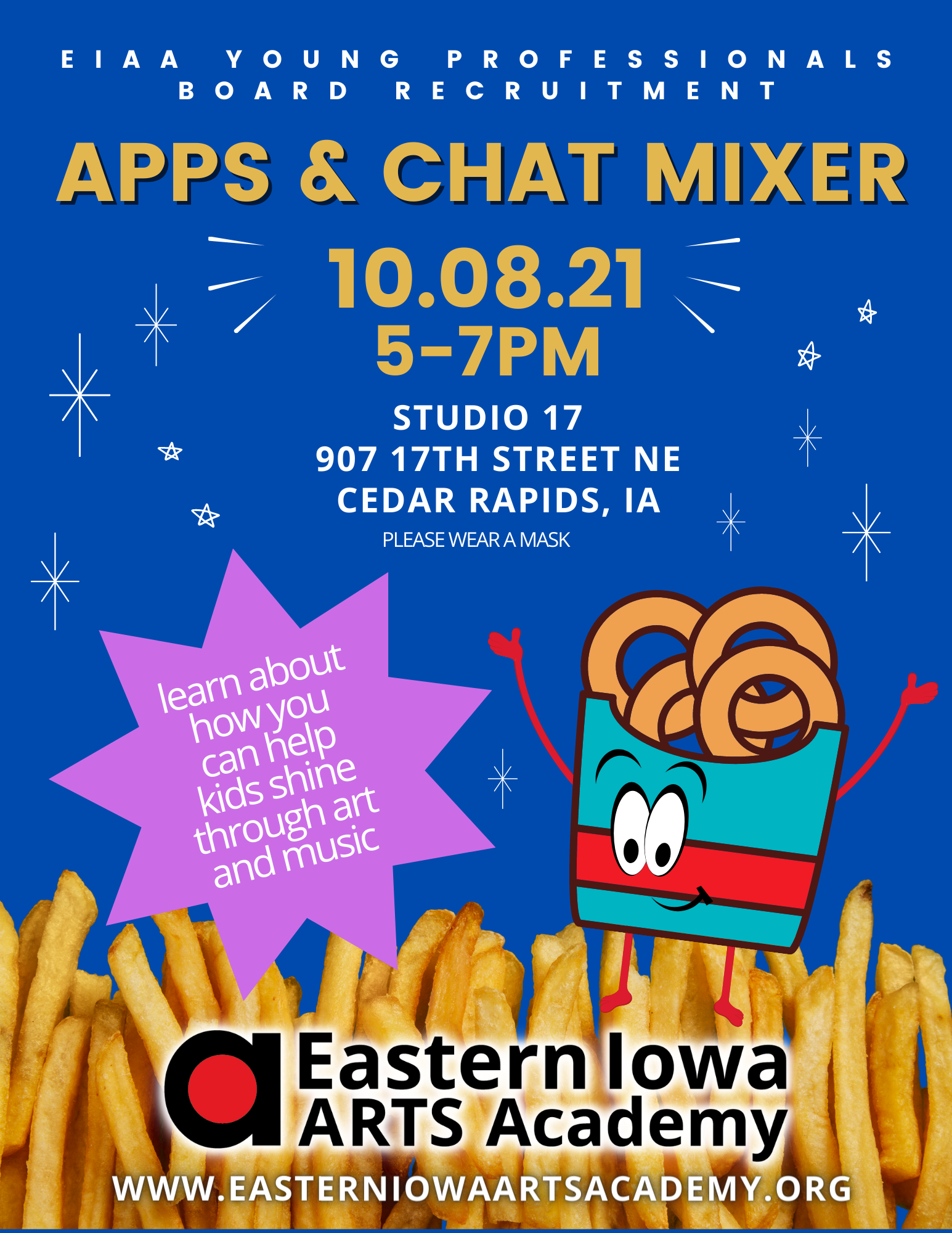 Why Join the Eastern Iowa Arts Academy's Young Professionals Board?
The EIAA Young Professionals Board supports the arts community through fundraising efforts and volunteer activities. Board members will play an active role in educating Cedar Rapids and the surrounding vicinity by raising funds, and continuing to develop partnerships between the EIAA and our community. Board membership will foster leadership skills, improve social and professional networks, and build new relationships not only with other members, but with artists and musicians throughout Cedar Rapids. Potential members will learn about the importance of the arts for children and adults, understand the way the arts save lives, build self-esteem and give children a safe place to create and grow. Finally, members will meet a wonderful, passionate group of creative people and have FUN!
Responsibilities of EIAA Young Professionals Board
Candidates for the EIAA Young Professionals Board includes any professional between the ages of 21-35. Applications will be submitted to the Board of Directors, and who will then accept a minimum of 10 candidates and a maximum of 20. Members will be required to serve a one-year commitment of monthly board meetings as well as serve on the Eastern Iowa Arts Academy Young Professionals Board Fundraiser and Event Planning Committee, as well as attend and volunteer at several EIAA events. Young Professionals Board members will also reach out to their social and professional networks to further the mission of the Eastern Iowa Arts Academy.
How to apply to the EIAA Young Professionals Board:
Complete the application HERE.
What will happen next: Your application will be reviewed, and you will be contacted to confirm or deny your acceptance. Young Professionals Board terms begin in October and last for one year, but the board may be elected to fill vacant terms as needed throughout the year. Anyone who is interested in joining the EIAA Young Professionals Board is encouraged to submit an application at any time.
To learn more about the Eastern Iowa Arts Academy and their impact on children in the community, browse our website or visit us on Facebook!
The Fall round of applicants will be selected for the Board by October 29th.
The Eastern Iowa Arts Academy thanks the following businesses and groups for providing Social Networking Opportunities and support for our new Young
Professionals Board.