This program is temporarily suspended due to COVID-19 and lack of accessibility to senior living centers.
Eastern Iowa Arts Academy IGNITES Imagination
Since 2012, EIAA has been offering fine arts programming to residents of senior living communities through the Ignite Program.
The Ignite Program's goal is to use fine arts classes, including visual arts, movement and creative writing to assist caregivers in providing a richer quality of life for the residents of our partner retirement communities.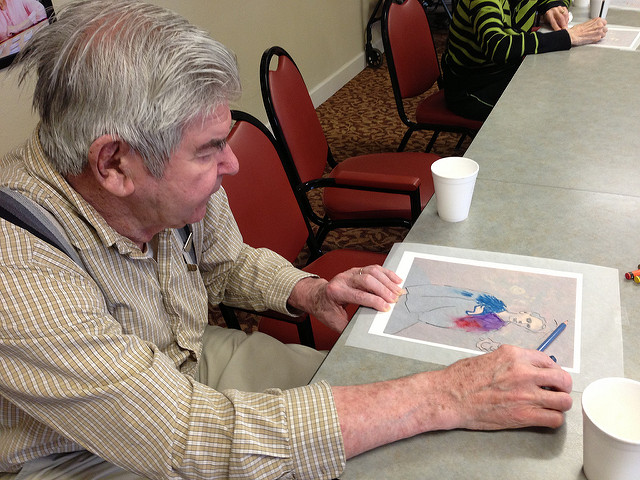 In the assisted living community, and particularly within the memory care units of assisted living facilities, quality of life is of the utmost importance to the residents and their families. Providing stimulating and engaging activities for the residents of assisted living communities is a challenge faced by the activities directors employed there. Due to the diversity of the populations living in assisted living facilities, including age, physical abilities and cognitive and memory skills, finding activities that challenge residents and stretch imaginations, while being accessible to all, can be difficult. Art activities that challenge cognitive processing, reinforce reasoning skills, and ignite imagination and memory are a valuable addition to the activity schedules in all assisted living communities.
---
Ignite Goal:
To use fine art classes to provide a richer quality of life for the residents of local retirement communities. We pride ourselves on our ability to customize our programs to meet the needs of your community members.
EIAA Vision:
To use the arts to offer the opportunity for self-expression and challenge participants both mentally and physically. Our innovative fine arts programming, provided by qualified artists representing a variety of artistic mediums, invites participants to engage in meaningful activities designed to connect them with their innate creativity, enrich life, and spark memories.
---
Did You Know...

According to the US Census bureau, 13.1% of the population of Cedar Rapids, Iowa is over the age of 65. EIAA's Ignite Program is assisting a part of the population within that age group living in senior living communities, who are exhibiting slower life styles due to dementia or the natural aging process.