Printable Projects - Week 1
Need a screen time break? Check out our Printable Projects series: a compilation of downladable, printable art and writing resources for students in Elementary, Middle and High School. The Eastern Iowa Arts Academy provided these projects to Cedar Rapids Community School District students through the meal distribution sites to families without internet access. This is the first week of materials provided the week of April 27th.
---
Drawing Prompts for Elementary
This project includes five unique drawing prompts for K-5 students.
Writing Prompts for Elementary
K-5 students will love these daily writing prompts.
Providing support for encouraging creativity
These prompts are designed to draw out your students' creativity. Remember, there are no wrong answers! If your student has trouble getting started or gets stuck, ask questions and provide encouragement. Remember the responses to the prompts can be about a made up world of their own imagining. When your child has completed a project have them share it after dinner, or before bed time. A vital step in the art making process is sharing your work, which is key to fostering self-confidence and gives your student the opportunity to shine!
---
Original Character Drawing for Middle School
Using their favorite playlist, 6-12th grade students will love this original character drawing inspiration.
Providing support for encouraging creativity
While art making is inherently rewarding, the product is only part of the goal. Getting lost in the process just for the fun of it is valuable on its own. Remember, there are no wrong answers!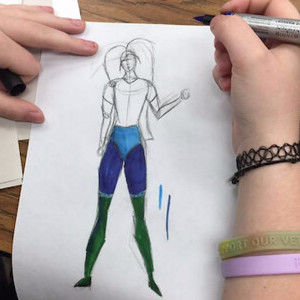 Share your work and stay connected!
We are curious to see your project! Upload photos in the comment section below. If you have trouble, or want to share a short video, email us at info@eiaaprogram.org. Leave your school name in the comment box and we will share images with your school!
We want to stay connected to our creative students when we get back to the new normal. While you are here, learn more about the Eastern Iowa Arts Academy. While we don't have much taking place in real space/time during the pandemic, we will get back to our regular live and in-person classes. When we do, we'd love to have you as a member!
Loading Conversation