Local Artist Russ Fagle
Russ is a graphic artist and musician based in Cedar Rapids. He has worked with many students in our After School Enrichment Program and at The Music and Arts Studios, teaching both art and music classes.
Class 1
Turn simple shapes into unique fish and other sea creatures in this simple drawing tutorial.
---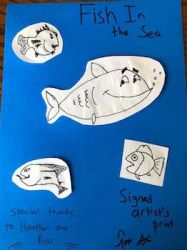 Share your work and stay connected!
We are curious to see your project! Upload photos in the comment section below. If you have trouble, or want to share a short video, email us at info@eiaaprogram.org. Leave your school name in the comment box and we will share images with your school!
We want to stay connected to our creative students when we get back to the new normal. While you are here, learn more about the Eastern Iowa Arts Academy. While we don't have much taking place in real space/time during the pandemic, we will get back to our regular live and in-person classes. When we do, we'd love to have you as a member!
Loading Conversation