Open Studio Sessions
The term "open studio" refers to a time when artists use studio space for their own creative process (art making), unlike taking a class where an instructor teaches a particular skill. At the Music and Arts Studios, Open Studio sessions are classes which follow this format with many students working on individual projects of their choosing, either in art, music or both.
Opportunities for Youth
The following classes and events are available to both members and non-members. They all share the open studio format of student-led exploration in both art and music.
Open Studio
Every Saturday 10am – noon (with the exception of holidays, and weather or EIAA event related closings)
Free!
Explore both art and music as inspired.
Appropriate for grades K-12
Every Saturday morning at the Music and Arts Studios students have the opportunity to work with professional artists and musicians while they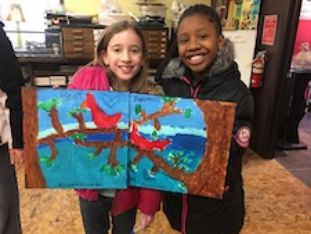 explore new mediums and instruments in a safe and creative environment. Students can participate upstairs in the Art Studio by working on projects from class (or school) or begin a new project just for Open Studio. Students can participate downstairs, in the Cave, where they find a multitude of musical instruments and equipment. A musician is there to help students start a song together, or simply begin a journey on a new instrument. Open Studio is a great way for students to learn about EIAA and all that the MAS has to offer and to get to know the staff and students. Feel free to drop in for all or part of the two-hour class. We encourage families to drop by and take a tour while students are busy getting creative. We request that parents stay with younger students (5 and under) while they create and explore. Please be advised our studio is not toddler proofed.
SPARK
Mondays, during our eight week terms, 3:00 - 5:00pm.
Explore both art and music as inspired.
For middle and high school students only.
Sing, Play, Art, Relax and Create, the name says it all! This weekly class provides a great place for middle and high school students to unwind after a long day and immerse themselves in the arts. Many students enjoy painting or creating pieces with mixed media, and others come just for the opportunity to play music! Students have even worked in the recording studio after creating an original song. The open studio structure of the SPARK program gives students a lot of freedom and provides a safe and welcoming environment where they feel like they can freely express themselves through art.
Teen Hang
Second Thursday of each month, 6:00-8:00pm
Free! Food and drink provided.
For teens (13 -18) only!
Visit our Events Page for the upcoming theme.
Teen Hang is a social and creative activity for all teens with an interest in art and music. Teen Hang is a welcoming and safe event where area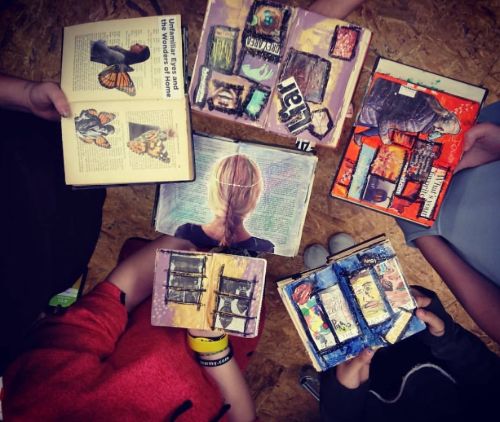 middle and high school students gather to be themselves outside of a traditional academic setting. Teen Hang typically attracts 30 students each month from a variety of area schools. The evening includes time to socialize and to enjoy art and music activities. Students enjoy painting, drawing, clay and other art mediums as well as time jamming on electric guitars, drums or keyboard. Each Teen Hang is centered on a theme to entice and stimulate student creativity. Some past themes have included: S'Mores and Tie-Dye Night, Cookouts, Bad 80's Movie Night, Pirate Scavenger Hunt, Vinyl Night, and Cosplay. Food and drink are provided surrounding the theme and students are encouraged to bring friends who share an interest in music and art.
Opportunities for Adults
Adults are not eligible for membership, so no membership is ever required, however, this open studio session is free of charge and open to the public!
Coffee and Art Club
Tuesdays, 9:30 - 11:00am.
No previous experience necessary.
Coffee provided.
Donations gladly accepted.
Adults from Cedar Rapids and surrounding communities gather at the Music and Arts Studios for art and conversation. Bring your own project to work on or enjoy exploring new mediums with the Art Studio supplies. No previous art experience necessary – just get creative and share a cup of joe!