Sunday, February 10th, 1:00-4:00 pm
Cedar Rapids Marriott
1200 College Rd. NE
Cedar Rapids, IA . 42402
tickets at http://blues-buffett.com/.
19th Annual Blues & Buffet Chili Challenge
Feb 10, 2019, 1:00 PM – 4:00 PM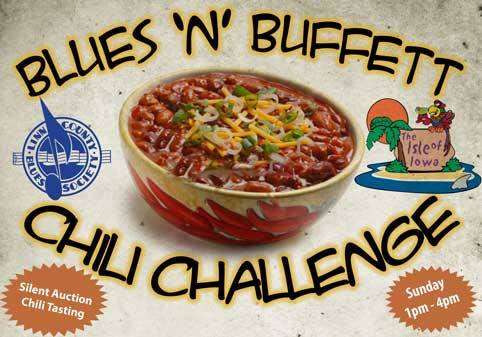 The Blues 'n' Buffett Chili Challenge is a friendly competition between the Isle of Iowa Parrot Head Club and the Linn County Blues Society to raise money for local Cedar Rapids charities. Since 2001, members of each club have challenged one another with their finest chili recipes and with colorful decorations and costumes. Last year's event raised over $10,000 for the selected charities and in the eighteen years of the event's existence, over $117,000 has been raised and donated to local charities.

Along with the chili tasting there is a silent auction. The public is encouraged to attend, taste the various chilies (more than 25 are anticipated) and vote for their favorite. Admission is still only $10, which includes tasting of the chilies and five People's Choice vote tickets. Children ages 6 and under will be admitted free when accompanied by an adult; and admission for ages 65 and older is $5. Advance tickets are available for $8 through February 9, 2019 at http://blues-buffett.com/. The club receiving the most People's Choice votes will receive a plaque and their club's charity will receive 51% of the proceeds from the event. The runner-up club will receive 49% of the proceeds for their charity.